Hawks & Ospreys Celebrate University of Cambridge Sport in House of Lords
On the evening of 19 October members of the Hawks and Ospreys Clubs came together at a reception on the House of Lords Terrace to celebrate University of Cambridge Sport.

Hosted by Hawk Chris Holmes, the event welcomed Olympians and international athletes (pictured), plus many others including the current Presidents of both clubs who represented Cambridge in a wide variety of sports.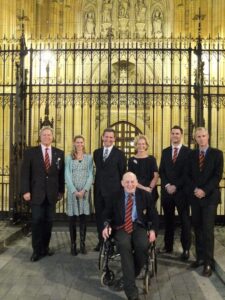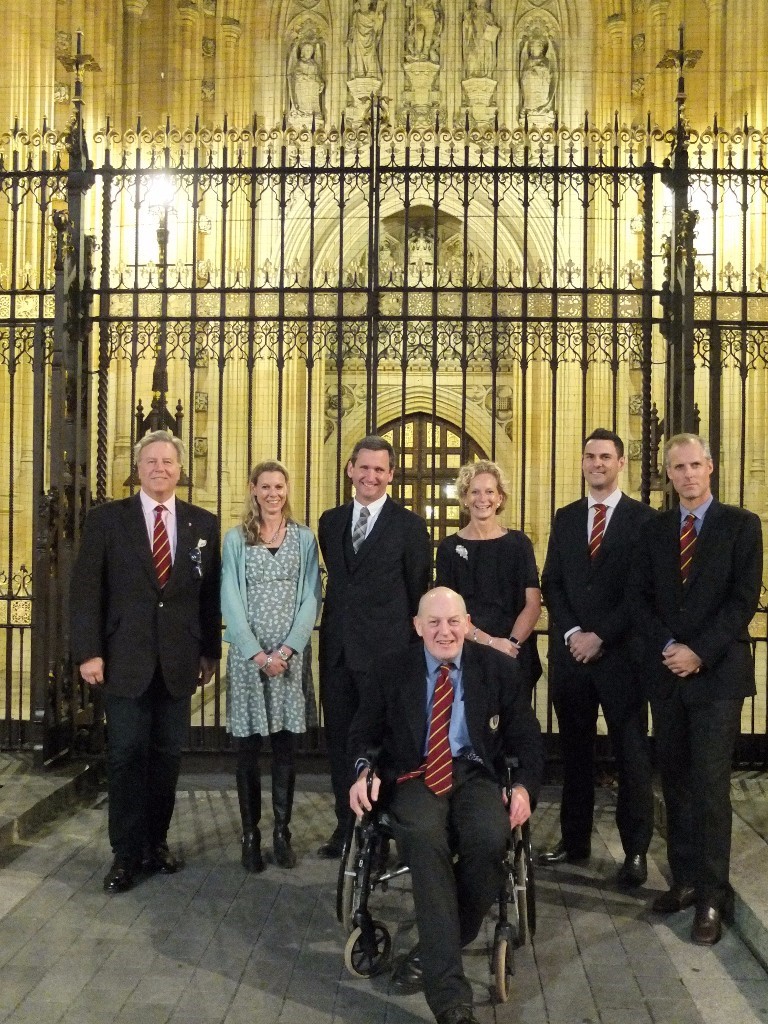 The event was part of the Hawks' Club's growing activity of events to promote and support sport at the University and fundraise for its Charitable Trust, that provides awards to male and female athletes to pursue their sport whilst studying at Cambridge.
Lord Holmes MBE is the greatest Olympian the University has produced, winning a total of nine gold, five silver, and one bronze medals for Great Britain at the Paralympic games in swimming in Seoul, Barcelona, Atlanta and Sydney.
Welcoming fellow Hawks and Ospreys to Parliament, he said "sport at the University of Cambridge has a long and proud tradition.  There is such a breadth of opportunity for people of all abilities to try something new or progress to higher levels.  With the Hawks' Club Charitable Trust established  as the largest charity devoted to funding sport in the University, we can all be proud to be a Hawk or Osprey."
Olympic and World Champion silver medallists John Pritchard chairs the Hawks' Club Development Committee.  He added, "sport binds people together like nothing else.  Everyone at the event shares a common background and we are all part of the same family.  I am grateful to Chris Holmes for hosting this event as Lord Karan Bilimoria who was due to host was unavailable, and all Hawks and Ospreys who could attend this evening.  With your interest in sport at Cambridge, we can continue to develop talented athletes and encourage people from all backgrounds to try something new and stay healthy throughout their time at and beyond Cambridge."
The next major Hawks' Club event is the London Dinner at The Savoy Hotel on 6 December. The 2nd Sports Lecture and Dinner will take place on 5 June 2018 at The Hurlingham Club, London SW6, when the speaker will be cricketer Ed Smith.
L-R: John Pritchard (Olympic rowing silver medalist); Steph Cook MBE (Olympic modern pentathlon gold medalist), Lord Chris Holmes MBE (Paralympic gold (nine), silver (five), bronze (two) medalist); Mike Biggar (Scotland rugby union); Annamarie Phelps CBE (Rowing World Champion and Olympian); Alex O'Connell (British Fencing Champion and Olympian); Ed Smith (England cricket).
A Hawk at the Olympics – Rio 2016
By Gordon A. S. C Wilson (Jesus 1986, CU Hare & Hounds, CU Athletics, CU Ski and Snowboard)
On Form
Published by Little Brown, September 2017
This 12-page PDF, entitled 'The Point of Sport'  forms a chapter in Mike Brearley's book 'On Form',  which was published in September 2017 and is long listed for the William Hill Sports Book of the Year.
 It was delivered by Mike as the Club's inaugural Sports Lecture at Lord's in March 2017.
The Point of Sport  (171Kb)   Please note it may not be replicated without the permission of the author, but do ask for permission via the Club, particularly if you are an educator or coach.
Mike Brearley OBE (St John's 1960-1963) captained Cambridge University, Middlesex and England. He captained his country in 31 of his 39 Test Matches, losing only four. He was the President of the MCC in 2007–08. Since his retirement from professional cricket he has pursued a career as a writer and psychoanalyst, serving as President of the British Psychoanalytical Society 2008–10. Previous publications include  The Art of Captaincy: What Sport Teaches Us About Leadership (2015).
If you would like to purchase a copy of On Form you can place an order on Amazon.
Internationals and Olympians in nine sports
A 12-page A5 booklet published in March 2017 covered five sports: Athletics, Cricket, Hockey, Rowing and Rugby Football Union. The latest (16-page) version published In October 2017, shown here, includes four additional sports: Association Football, Fencing, Golf and Lawn Tennis.
The next edition is planned for April 2018. Will your sport be included in that edition?
Hawks' Internationals Oct 2017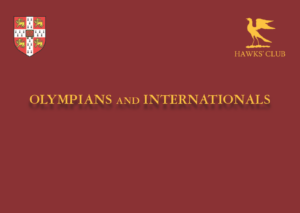 Olympians
An A2 poster of All Olympians can be downloaded by clicking on the image. It is a list created by the University and updated by Hawks' Club in March 2017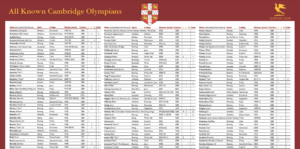 The Hawk
The Hawk is produced twice a year and provides Members a detailed review of recent sporting contests, articles of interest and obituaries of distinguished Members. If you would like to contribute an article please let the editor, Tim Ellis, know.
If you currently receive the publication in the post, please update you email details in the Members' Directory on this website or send them to Pat,, our administrator. This will allow us to send issues to you electronically and reallocate the saved money to more appropriate areas.