HCL Directors Response to Mr Calder's letter of 01/09/2017
Reply to Douglas Calder of 01Sept dated 180917
Mr Calder's letter of 1st September 2017
HCL Director's Response to Mr Calder's letter of 14/08/2017
HCL Directors response to DC's note of 14/08/2017
Letter from Douglas Calder dated 14th August 2017
Douglas Calder's note of 14th August 2017
A Proposal that the Ospreys Club be able to co-occupy Calder House with the Hawks' Club
A Hawk at the Olympics – Rio 2016
By Gordon A. S. C Wilson (Jesus 1986, CU Hare & Hounds, CU Athletics, CU Ski and Snowboard)
On Form
Published by Little Brown, September 2017
This 12-page PDF, entitled 'The Point of Sport'  forms a chapter in Mike Brearley's forthcoming book 'On Form'. It was delivered by Mike as the Club's inaugural Sports Lecture at Lord's in March 2017.
The Point of Sport  (171Kb)   Please note it may not be replicated without the permission of the author, but do ask for permission via the Club, particularly if you are an educator or coach.
Mike Brearley OBE (St John's 1960-1963) captained Cambridge University, Middlesex and England. He captained his country in 31 of his 39 Test Matches, losing only four. He was the President of the MCC in 2007–08. Since his retirement from professional cricket he has pursued a career as a writer and psychoanalyst, serving as President of the British Psychoanalytical Society 2008–10. Previous publications include  The Art of Captaincy: What Sport Teaches Us About Leadership (2015).
If you would like to purchase a copy of On Form you can place an order on Amazon.
Internationals and Olympians
A 12-page A5 booklet published in March 2017 covering five sports: Athletics, Cricket, Hockey, Rowing and Rugby Football Union
Hawks' Club A5 booklet Internationals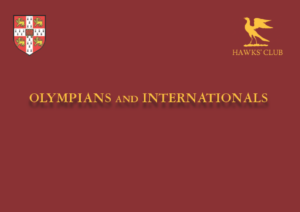 Olympians
An A2 poster of All Olympians can be downloaded by clicking on the image. It is a list created by the University and updated by Hawks' Club in March 2017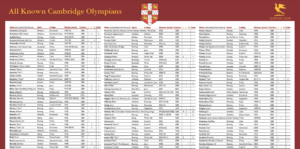 The Hawk
The Hawk is produced twice a year and provides Members a detailed review of recent sporting contests, articles of interest and obituaries of distinguished Members. If you would like to contribute an article please let the editor, Tim Ellis, know.
If you currently receive the publication in the post, please update you email details in the Members' Directory on this website or send them to Pat,, our administrator. This will allow us to send issues to you electronically and reallocate the saved money to more appropriate areas.